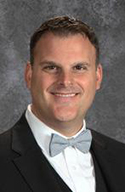 2017 High School Principal of the Year
Jeff Ridlehoover, Mounds View High School
Jeff Ridlehoover has been the principal at Mounds View High School for the past four years and a member of MASSP for the past fourteen years. Jeff's early goal at Mounds View was creating and maintaining a "happy and healthy" school culture. Jeff was instrumental in creating a teaching and learning team to solicit feedback from a wide variety of stakeholders as well as a Principal Advisory Group which meets regularly to discuss both "wins" and "opportunities" for students. Jeff also has led work in Equal Opportunity Schools to promote underrepresented populations participation in Advanced Placement courses.
Staff and students share that a major strength of Mr. Ridlehoover is his visibility in the school and his open door policy. "Mr. Ridlehoover is available any time for us and he listens! He helped create a REFLECT period that allows students to get extra help from teachers and pursue personal projects."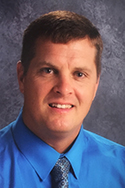 2017 Middle Level Principal of the Year
Brad Kelvington, Foley Intermediate School
Brad Kelvington has been the principal at Foley Intermediate School for the past 11 years, a member of MASSP for the past 16 years and a member of the Board of Directors for the Minnesota Middle School Association. Brad is a data led leader who has teamed with staff to investigate teacher practices as well realignment of standards to raise student achievement across the building.
Staff share that "Brad is a learner and deeply invested in everyone's success. He has worked hard to improve PLCs, is focused on creating a growth mindset and committed to emerging trends – the staff is currently reading Teach Like a Champion."  Students share that they feel safe and respected. "Mr. Kelvington takes bullying very seriously and we had several presentations on how to handle different situations when they arise". Perhaps the most shining endorsement came from a student leader who shared "Mr. Kelvington has very big dreams for students and tries to connect with each student to show that they are a valued part of FIS."

2016-2017 Assistant Principal of the Year
Angela Doll, Moorhead High School
Angela Doll, assistant principal at Moorhead High School, has been named this year's recipient of the Minnesota Assistant Principal of the Year Award, and is now eligible to be considered for the National Assistant Principal of the Year honors. Angela has had a huge impact on the students and staff at Moorhead over the past four years. One critical initiative involved students with poor attendance. By focusing on creating an environment where students felt safe and respected and also strengthening relationships with these at-risk learners, Moorhead High School was able to reduce time lost to suspensions by over 75%. It is not surprising that staff members consider Angela's ability to bond with "our most at-risk" students as one of her most important strengths.