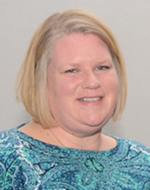 Darcy Motschenbacher, Duluth East High School
Darcy Motschenbacher of Duluth East High School is this year's Office Professional of the Year Award. Darcy has held several key support positions in her school including the activities office and counseling office before taking her current position of Senior Office Support Specialist.
Community members, staff and students speak in glowing terms when asked to comment on Darcy's skill sets and a common theme emerges: "We would be lost without her!" Though know for "endless" patience, problem solving strategies and organizational strengths several school members marveled at her ability to provide individual support even when her schedule was overflowing.
"There was a day my world seemed to be falling apart one morning as I ran through the office to meet a deadline" shared a staff member. "By the end of that afternoon Darcy had tracked me down to make sure I was alright - that is simply amazing given the number of people she supports every day." 
A student summed up Darcy's profile perhaps best of all; "You can see the positive influence she has on students all the time. She is kind and devoted, even during chaotic times. She is a ray of sunshine on our darkest day!" 
APPLICATION PROCESS
Click here to download an application.
Return completed application form to the MASSP office on or before November 16.